EDF TRADING APPOINTS JEAN-BENOȊT RITZ AS CHIEF TECHNOLOGY OFFICER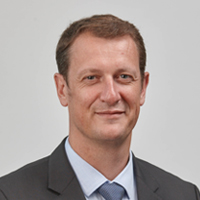 EDF Trading, a wholly-owned subsidiary of EDF S.A., announces the appointment of Jean-Benoȋt Ritz as its Chief Technology Officer and Executive Committee member. Ritz joins today and will be reporting to Béatrice Bigois, Chief Executive.
This is a new role which will focus on data strategy and delivery, accelerating EDFT's capabilities in this evolving field.
"We are delighted to welcome Jean-Benoȋt to EDF Trading. He has over 15 years' experience in the energy sector and has led on innovation and data for EDF Energy's customers' business in the UK for the past five years", said Béatrice Bigois. "He brings with him extensive experience in innovation, data, strategy and business development which will benefit EDF Trading as we continue to develop our data capabilities", she continued.
Ritz joins from EDF Energy where he was Director of Innovation and Blue Lab. Prior to this, he was founder and Director of EDF Energy's R&D UK Centre, supporting the company in its generation business and commercial activities. Ritz holds a PhD in Computational Physics (Computational Fluid Dynamics) with numerous patents and publications in the energy sector. He began his career in the aerospace field working in a start-up designing engines for rockets. He has been teaching innovation and energy in French schools of engineering and universities for more than 10 years.
For further information, please contact:
EDF Trading
Michele Reid, Head of Communications
Tel: +44 (0) 20 7061 4232
Email: michele.reid@edftrading.com
EDF Trading
EDF Trading is a leader in the international wholesale energy markets. The company manages a portfolio of assets which give it the ability to source, supply, transport, store, blend and convert physical commodities around the world. These capabilities enable EDF Trading to deliver essential asset optimisation services, risk management and wholesale market access to the EDF Group and its third-party customers, helping them to realise the value inherent in their asset portfolios.
EDF Trading is active in the electricity, natural gas, LPG, oil and environmental products markets. It is also active in the LNG and coal and freight markets via JERA Global Markets* ("JERAGM*"). EDF Trading is one of the largest wholesale market traders in Europe for power and gas. In North America, EDF is one of the leading marketers of gas and power, one of the main providers of generation services for power generation companies and a leading energy retailer for large commercial and industrial customers.
*JERAGM is a joint venture between JERA Co., Inc. (66.67% through JERA Trading International Pte. Ltd. equity) and EDF Trading (33.33% equity). JERAGM operates one of the largest seaborne energy portfolios in the world.
EDF Trading is a 100% owned subsidiary of EDF SA., one of the world's biggest electricity generators and a leader in low-carbon production.
EDF Trading has around 800 employees with key offices in London, Paris, Singapore and Houston.
For more information, please visit www.edftrading.com.